Learn just how fun birdwatching for kids can be, and how to get your family started!
There are so many great things about birdwatching, making it a worthwhile hobby for family to pursue! It can be a fun and educational activity that will help teach your children about the different types of birds in their area, their habits, and how to identify them.
The best part about birdwatching is that anyone can do it! It can be more of a hobby or an avid interest that your family participates in regularly.
What is birdwatching for kids?
Disclosure: This post contains affiliate links. As an Amazon affiliate, we earn a commission, at no extra cost to you, if you click through and make a purchase
This hobby is exactly what it sounds like – watching for birds! It's an excellent opportunity to get your whole family off their devices and out into nature. It's a fun, challenging, and rewarding activity that children of all ages can enjoy.
Basically, you sit into your backyard and check out the birds that are native to your area. You can also birdwatch with children at your local parks or nature trails. Birdwatching while hiking with your family is extremely fun!
Benefits of birdwatching with kids
There are many benefits for children that like to watch birds..or for families to start with birdwatching. These include:
Increased ability to focus – You have to look closely into the trees and around bushes as you locate birds in the outdoors. Focusing on the task and hand greatly improves your chances of spotting a blue jay or cardinal.
Improved patience – Birdwatching requires your children to be patient. The birds may not be easy to spot the moment you step outside. But if you wait quietly, you are bound to spot 1 or 2 (and maybe more!) around your home.
Love of nature and animals – Birdwatching for kids can create a lifelong love for nature and those we share it with. Kids can learn more about native birds as well as those found in other parts of the world. This can further an interest in biology and other fields of science. It also promotes taking better care of our environment for humans as well as animals!
Bonding with family members – Because it is an activity everyone can enjoy, birding as a family is a great way to connect. No one is glued to a screen, so you can communicate freely and enjoy sharing a common goal.
Grab our Insect Observation Journal for even more outdoor fun with kids!
How to get started birdwatching as a family
Birdwatching may seem like an overwhelming hobby to partake in, but it really isn't. Your family can choose to get as far into the activity as they wish. It may be enough for you to just head out the front door and look around the trees for birds.
However, you may want to get a little more involved with the hobby and teach your children more about the birds you find. That's an excellent way to really make the most out of nature activity with your kids.
Initiate conversation
To get started, initiate conversation about birds with your kids the next time you are outside. This could be when you are taking a walk or as they finish playing at the local park. Have them look around the area and see if they see any birds flying or sitting on a bush or bench.
These small talks help to gauge your child's interest in birdwatching. Most likely, it will spark an interest that can become a fun activity for all your loved ones to do together.
Feed the Birds: Attract and Identify 196 Common North American Birds
What's that Bird?: A Beginner's Guide
Peterson Field Guide To Birds Of North America, Second Edition
Do a little research
Once your birdwatching for kids takes off, get a handy a good bird identification book or guide. This will help you learn how to identify different bird species. You can also let your children research birds online. Learn the names of the birds and any fun facts. When kids know this information, it can be fun for them to share it with their friends.
Network with other birdwatchers
Find out if there is a local birding group your family may want to join. This can help you meet like-minded birdwatchers and learn even more about the birds in your area. These groups share ideas about the best times to birdwatch as well as the best locations in the area. You may even enjoy having a regular meetup with some group members so you all can go birding together!
What equipment do you need for birdwatching
The first few times you go out to spot birds, you only need your eyes. If you want to make this a serious family hobby, however, you may want to invest in a few things to make your ventures outdoors more enjoyable.
Gosky 10×42 Roof Prism Binoculars for Adults, HD Professional Binoculars -BAK4 Prism FMC Lens-with Phone Mount Strap Carrying Bag
10×42 Binoculars for Bird Watching – Professional HD Quality Roof Prism Bird Watching Binoculars for Adults – Perfect for Birding
Maylehare 12X42 Bird Watching Binoculars for Adults
Binoculars
Binoculars are a necessity for birdwatching. They help you see the bird up close and in detail. If you are serious about birdwatching, invest in a good pair of binoculars. Children's binoculars aren't very expensive, and everyone will want their own pair to prevent arguments.
Adult binoculars may be a little more costly, but it will be a sound investment if you really are interested in birding.
Gosky 20-60×80 Dual Focusing ED Spotting Scope – Ultra High Definition Optics Scope with Carrying Case and Smartphone Adapter for Bird Watching
SVBONY SV28 Spotting Scopes with Tripod,Hunting,25-75×70,Angled,Waterproof with Phone Adapter, for Birding, Wildlife Viewing
Gravitude 20-60x80mm HD Spotting Scope with Tripod & Carry Case – BAK 4 Prism Spotting Scopes for Bird Watching – Waterproof Fog Proof – Phone Adapter and Clicker
Spotting Scope
A spotting scope is another piece of equipment that can be helpful to have. A spotting scope is a telescope-like instrument that helps magnify the bird, making it easier to identify. Avid birdwatchers may prefer spotting scopes to binoculars because they are able to set the device up on a tripod for a clear, precise view of the birds.
Sunscreen
You may not realize just how much time you spend outdoors birding with kids. Sunscreen is very important while birdwatching with your family, especially in the summer. Keep everyone protected so you don't tarnish the idea of further birdwatching activities because of a bad sunburn.
Bug Spray
It never hurts to have some bug spray on hand when you are outdoors watching for birds. This is especially true when you are in wooded areas or near a water source. Spray some on before you head out so you can focus on the birds and not those pesky insects!
Backpack
Birdwatching for kids means having the right equipment handy when you need it. Carrying a daypack is a great way to make sure you have your binoculars and other essentials with you at all times. Along with your equipment, make sure you pack enough water and snacks to keep everyone hydrated and happy!
Clothing
Avid birdwatchers will want to dress appropriately for the hobby so they are comfortable. Dry fit clothing is perfect to keep you from sweating too much for warm temperatures. Wear sturdy shoes or boots if you are going to be doing a lot of walking. Top off your outfit with a hat to help shield your eyes and face from the sun.
Funny Birdwatching Shirts
Easily Distracted By Birds Funny Bird Watcher T-Shirt T-Shirt
Birdwatcher Gifts, Birdwatching T-Shirt: Bird Nerd Shirt
Bird Watching T-shirt – Funny Bird Watcher Smart People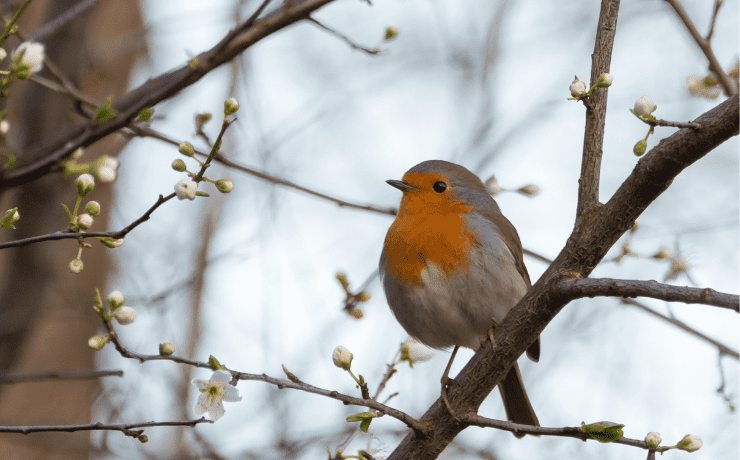 Tips on Birdwatching for Kids
No matter how young your birdwatching partner is, there are a few things you should keep in mind as you venture out on bird watching trips. Learning these tips before heading out will make the experience more enjoyable for everyone!
Be patient
You might spend some time birding before actually seeing any birds. The animals are naturally cautious of humans, so they may stay hidden until you go away. Be patient while bird watching and eventually, one bird will come into view! Don't get too frustrated if it doesn't happen quickly–you are outside birding which is pretty amazing in itself.
Be as quiet and still as possible
It can be tempting to want to speak up and point when you see a bird. However, the bird may fly away if it becomes too frightened. Keep quiet as you birdwatch to ensure you have a good opportunity to spot the bird and identify it!
Avoid bird feeding in the wild
If you are birdwatching with kids, you will spend a lot of time birdfeeding. This can be very bad for the birds if they get used to humans feeding them! If birdwatching with children, try not to birdfeed at all so you don't disturb other wildlife in the area. Of course, you can always put bird feeders around your home to attract more birds to your backyard.
Psst…bird watching isn't the only backyard fun for your family!
Follow your gut
As birdwatchers gain more experience, they learn to trust their instincts when birding. If you feel like the bird you are watching is too scared to come into full view, take a step back and try scanning for it from a different angle. Your bird watching partner will gain the same instincts as birdwatching with you continues!
Be respectful
When birdwatching, it is important to be respectful of both your birding partner and the environment. Try not to litter or make a lot of noise while birdwatching so you don't scare away other birds or ruin someone else's experience
Take lots of pictures
You may not be able to capture the bird on camera, but you can take plenty of bird photos while birdwatching with kids. Be sure everyone has a digital camera and knows how to bird watching pictures! It will be a birdwatching memory you can cherish forever.
Birdwatching Observation Journal for Kids
Add more fun to your family's birdwatching with this fun birdwatching worksheet! Your children will have a blast recording all the different birds they see. The journal offers space for date/time, location, and weather, as well as details about the bird like name, picture and other details they observe.
There's also a tally card included so you can track how many of each bird species you see as you bird watch. The fun birdwatching BINGO game is great for taking on your trips, as you never know what you might see!