Need some help with toddler summer activities that will keep your little one entertained? We have a sample schedule and bucket list printables that can help!
When it comes to summer, school aged children can typically entertain themselves. They spend a lot of time outdoors, jumping on the trampoline, riding their bikes, or playing games with family members and friends.
What about the younger children, however? They often need adult supervision, but they still want to have fun. That's why we have come up with tons of fun summer activities for toddlers to help parents and babysitters out.
And, we also have a summer schedule you can use so the days are structured – keeping mommy and baby happy!
Toddler Summer Activities & Schedule
Young children tend to thrive best when they have a routine to follow. The hours don't have to be set in stone, but doing the same basic things each day give the child stability. They can be comfortable in their day-to-day lives, as they know what's going to happen.
That's why our handy summer schedule for toddlers is so ideal for newer moms or babysitters. We have given you a guided look at a typical day for a toddler, and there is a blank template to create your own schedule too.
The fill-in-the-blank toddler schedule gives the adult guidelines for what to do with the kids and when to do it. Simply use the list of activities, or come up with things you know your toddler already enjoys doing, to fill in the schedule.
That way, your days are structured and you won't find yourself with a grumpy kiddo wanting to be entertained/fed/put down for a nap!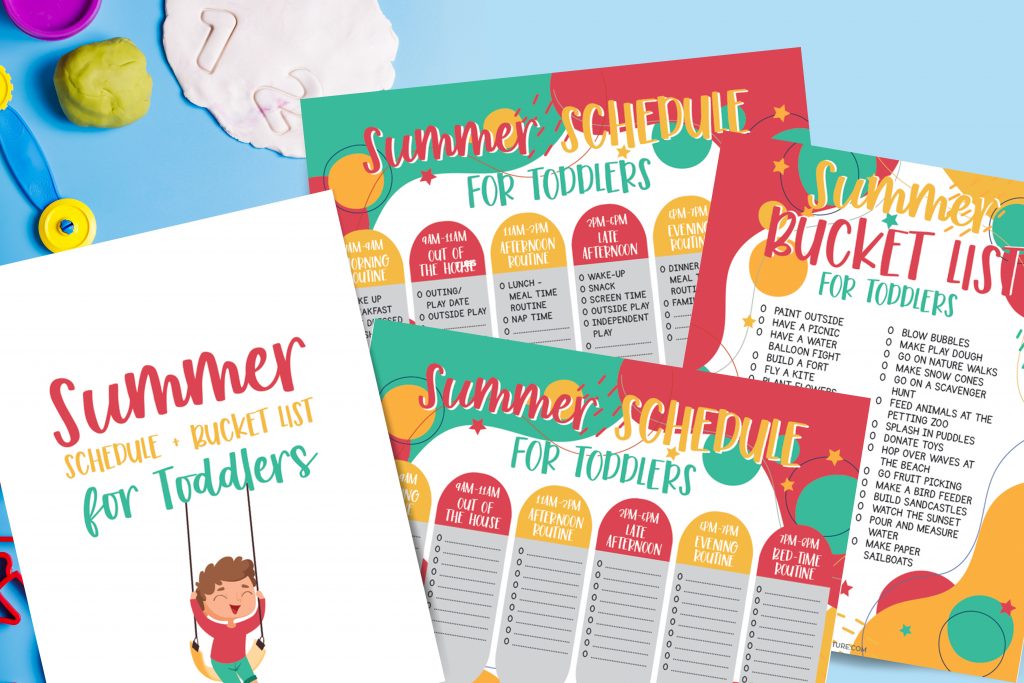 Suggestions for Toddler Summer Fun
Aside from the necessities like meals, naps, and bath time, what should you include in your schedule? Lots of fun toddler summer activities, of course!
Here are a few to get your started…
Paint outside
Build a fort
Fly a kite
Draw with sidewalk chalk
Paint rocks
Eat a popsicle
Blow bubbles
Go on a scavenger hunt
Splash in puddles
Pick fruit
Watch a sunset
Obviously, the ideas you plan for your toddler should be things he will enjoy doing. And they need to be things you are prepared for. The bucket list is filled with different ideas for you. Don't feel bad about doing the same activities more than once, especially if your little one really enjoys them.
Some toddler summer activities may call for specific materials, like sidewalk chalk or a kite, but these are things you can pick up ahead of time to be ready for the daily schedule.
Toddler Summer Bucket List
Along with the schedule, we have included a toddler summer bucket list printable to help you provide a wide variety of fun to your children. Check out the list as you complete each one, and add to it as you think of new things to do with your kiddos!
Download the complete Toddler Summer Schedule, Activities, and Bucket List at the link below. The PDF will open in a new window so you can easily print!