Need some backyard fun ideas that your entire family can enjoy? We offer several great options that kids and parents will all love!
It's summertime and that means it's time to have some backyard fun! Whether you're looking for ideas to keep your kids entertained or just want a break from the heat, we've got you covered.
The following blog post is full of great outdoor activities that are easy enough for even the youngest of children. What better way to spend time with family than by bonding outside?
Backyard Fun Ideas for the Entire Family
Disclosure: This post contains affiliate links. As an Amazon affiliate, we earn a commission, at no extra cost to you, if you click through and make a purchase
Enjoying Meals in the Backyard
Once the weather warms up and the sun is out shining bright, why not take your meal outside to enjoy it with the family? Breakfast, lunch, or dinner can also be consumed while soaking up the rays and spending quality time with your loved ones.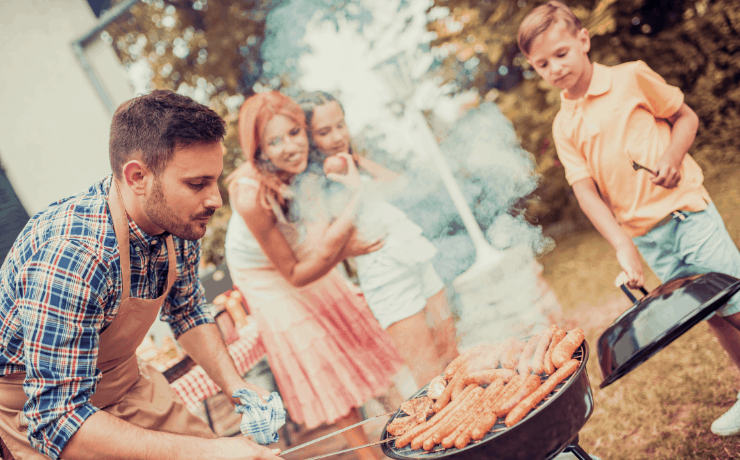 Hosting a barbecue is a great way to bring the family around. You may even get some friends or neighbors to attend as well! Charcoal grills are a great way to prepare steaks, burgers, or chicken for the occasion. If your family loves grilling out often, you may want to consider shopping for a gas grill.
A backyard picnic is another great option for an outdoor meal for your family. You can prepare all the food inside to keep it free from insects for as long as possible before carrying it out to the picnic table, deck, or patio.
Popular foods for the picnic are sandwiches, salads, crackers, pretzels, and cookies. Be sure you have a cooler full of bottled water or other drinks, so everyone stays hydrated in the warm weather.
Go for a Swim
Swimming can be the perfect way for families to spend time outdoors. It allows us to cool off while also burning energy. This means kids sleep well at night! Parents can benefit from the exercise of swimming as well.
Water lovers may want to consider installing in a large in-ground or above-ground swimming pool for their families. This is an investment and there will be some upkeep for you, but it is well worth it when you are looking at backyard fun ideas. Usually, the house with the swimming pool is the one most frequented during the warmer months of the year.
Children love cooling off by swimming during the summer. You can get them diving sticks to enjoy finding underwater. Swimming lessons are also vital if your kids are going to be in the pool often. Make sure they exercise proper water safety too, to prevent drowning and other accidents.
Other Backyard Water Activities
A swimming pool isn't a necessity in order to enjoy some water fun outdoors.
Water sprinklers are a low-cost alternative to a pool that keeps kids cool while also giving them lots of running around to do. Many love to jump through a cold water sprinkler on a hot summer day. If you already have a sprinkler for your lawn or garden, pull it into a big open spot, turn it on, and let everyone have fun leaping through the water.
Water guns are another fun backyard idea for the entire family. You can nice Super Soaker-style blasters from Amazon to hose each other down with. If you really want to get into it, you can create a "paintball" style zone in the backyard, complete with places to hide. Then, break up into two teams and have fun soaking your opponents!
Water balloons are yet another idea for some backyard family fun. And you don't have to sit down and fill each one individually. Many packages of water balloons now come designed to be filled and self-sealed all at once! Simple play with these balloons include tossing them back and forth while being careful not to let one burst. But of course, the bursting is the fun part since that's when you get wet!
Our FREE Birdwatching Journal for Kids offers a fun and education way to enjoy your backyard!
Have a Jump
A backyard trampoline is a great way for families to get outside and enjoy their evenings. Kids love jumping high and the air, pretending to be gymnasts as they do crazy flips. Even teens and adults can enjoy the exercise that a quality trampoline can offer.
Though trampolining can be a family activity, it is recommended that you jump one at a time so no one gets hurt.
Backyard Sports
Many games can be played right in the backyard, without the need of going to a local park. For example, you can set up a volleyball net for your family to enjoy on the lawn. Throw down some sand if you want a more beach volleyball feel.
A basketball hoop can also be a great investment to get your family outside. Teach your kids how to play HORSE, or just have a fun game of 2-on-2…or more if you can find neighborhood kids to join in!
Kickball can be played by the entire family, and it doesn't require as much investment. You really only need a ball! This is an entertaining pastime that's been played at recess or during P.E. in school for decades.
Lawn Games
Backyard lawn games can provide hours of family fun, laughs, and healthy competition. There are many different options on the market today. We will look at some of the more popular choices that have been around for years.
When you are looking for backyard fun ideas that your entire family will enjoy, consider these options:
Cornhole has become a very popular lawn game for players of all ages. This involves placing two boards several feet apart. Teams of two then take turns throwing bean bags from one board to the other, trying to score points by landing on the board or, even better, into the hole in the board.
You can find cornhole boards with your favorite sport team logos on them, or get a more practical waterproof set on Amazon.
Horseshoes have always been a great pastime for both kids and adults. This game involves having stakes in the ground about 40 feet from each other. Teams take turns tossing the horseshoes, trying to wrap them around the stake.
Many horseshoe sets of the past were constructed with a heavy metal that could be difficult for younger children to hold or throw. There are rubber sets available nowadays, which may make it more fun (and fair) for the smaller players.
Ladder toss may have gotten its start in campgrounds back in the 1990s. However, many people love to play it in their own backyards nowadays. It's easy to make a ladder toss game with PVC pipes for the ladder, and your own balls and string. But, Amazon and other sporting good retailers have ladder toss sets you can get if you want to forgo the DIY route.
This lawn game involves tossing a "bola" – two small balls connected by a string – toward a ladder. Wrap the string around a rung of the ladder to score points.
Backyard Camping
Any family can end a fun-filled day with a backyard campout. All you need is a family sized tent to enjoy the night. If you have a fire pit, you may want to roast marshmallows or make s'mores as a great backyard treat before the night ends.
You can grab our printable Camping Charades game to play before you get some shut eye too!
Star Gazing
One of the easiest backyard fun ideas involves laying out a blanket and looking up at the stars. You may want to do this with your family as part of a night of camping, or just before you head inside for the evening.
If your family is very into looking at the stars, you can learn more about the constellations and how to spot them in the night sky. You may also want to invest in a telescope so you can look for planets and other things in space.
Outdoor Movie Night
Similar to a drive-in movie theater, watching a movie outdoors can be a unique way to spend time together as a family. It goes way beyond your traditional movie night cuddled up on the sofa!
Invest in a movie projector and screen so that your family can enjoy the film. Pop some popcorn or offer up some popsicles as fun treats for the movie.