Looking for a fun camping charades game you can play while sitting around the fire? Here you go – and you'll find some great S'mores recipes to enjoy, too!
Going camping comes with many fun activities on its own. You can take advantage of hiking trails, swim in the nearby lake, or ride bikes around the campground.
What do you typically do when the sun is setting and you've built a fire for everyone to enjoy? Try some cool games and yummy treats!
Camping Charades Game
You may want to sit around and tell ghost stories or sing songs. Once you try those activities and find they aren't very entertaining anymore, you may want to play some camping games.
To help you enjoy extra fun activities, make sure to grab these free printable campfire charades game and s'mores pack! 🪵 🔥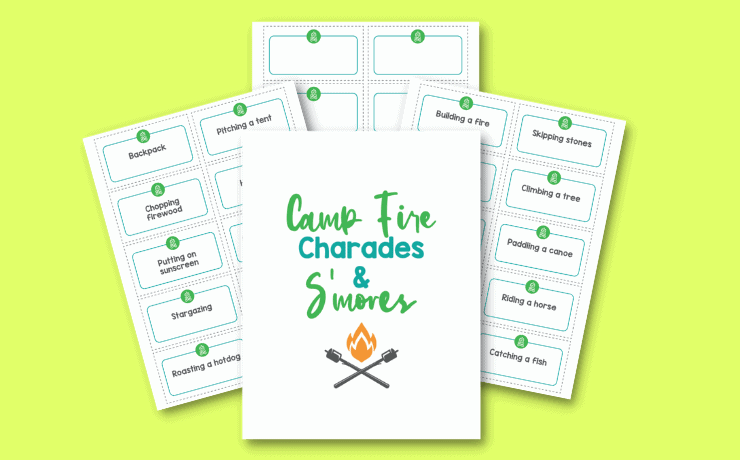 This fun printable campfire game comes with 20 charades cards ready for you to print. Everyone will have lots of laughs getting their teammates to guess items or actions, such as:
Chopping firewood
Flying a kit
Hammock
Backpack
Catching a fish
This game comes with a blank sheet of camping charades cards so you can personalize it for your family or friends. The ideas are endless!
How to Play Charades
You can use these traditional rules of the game. Feel free to change them up to your own style, player ages, etc.
Separate the players into two teams. Rotate who will be the "mime" (or actor) of the team each round.
One player (the mime) from team #1 takes a charades card. Give this player a few seconds to read the card and think about how to act it out.
Start a timer, giving the player 60-90 seconds to act out the card and for their teammates to guess. Use a cell phone or sand timer to track the seconds.
Award 1 point to the team if they guess the card correctly before time runs out.
Play continues with the teams alternating with the cards until the cards run out or until one team reaches a pre-determined score.
Ideas for the Blank Camping Charades Cards
Make the game unique to your players by using the blank cards included this printable campfire game. If it's just a family away for the weekend, you can add in hobbies each player enjoys. You may want to include nature objects, animals, insects (and other minibeasts), vehicles – really anything that your family and friends are into 😊
The ideas are really endless!
If you're still stuck on what to write into your blank game cards, here are a few more ideas to get you going:
Flashlight
Binoculars
Lantern
First Aid Kit
Hiking boots
Blowing a whistle
Going on a bear hunt
Making mud pies
Riding a bicycle
Swimming
Fun S'more Recipes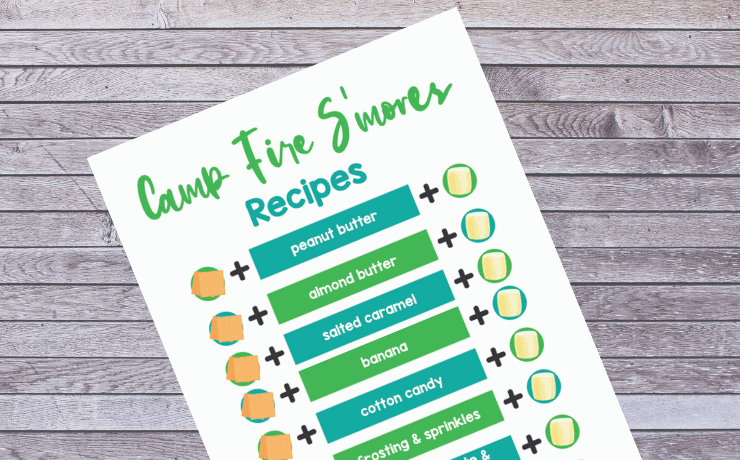 As a bonus, you'll find some unique ways to enjoy s'mores while you play. It's at the end of the printable PDF pack below.
Hope you enjoy this free printable camping game with your family and friends. Have fun acting out all the included cards – and make the game play more fun by adding in some of your own ideas on the blank cards! This game is sure to make your camping trip a hit every time you play!