Looking for some fun outdoor activities with toddlers? We have several ideas to share with you below!
Utilizing the outdoors is a great way to get children active, and there are many ways to keep the costs down while still having a lot of fun. Many of these work well for the summer weather, but you can do several of them anytime. If it's cooler, just throw a jacket on your toddler!
Besides, what's better than seeing children running around in the sun having the time of their lives? With all the electronic games and kids' programming available, it is easy to lose track of time and not even notice how long they have been sitting there looking at a screen.
The answer is to get them active outside!
Outdoor Activities with Toddlers
When the weather is cooperating and it's warm enough, going outside can be fun for both parents and children. Here are 10 inexpensive outdoor activities for toddlers to enjoy!
Finger Painting
Finger paint is a reasonably priced item that can be used almost anywhere outdoors. Whether using little fingers or actual brushes or both, there is guaranteed fun with simple clean-up. Clothing, toys, and toddlers can be washed clean with a spray from the water hose. For those with children who eat everything they touch, vanilla pudding with food coloring can be a substitute for paint.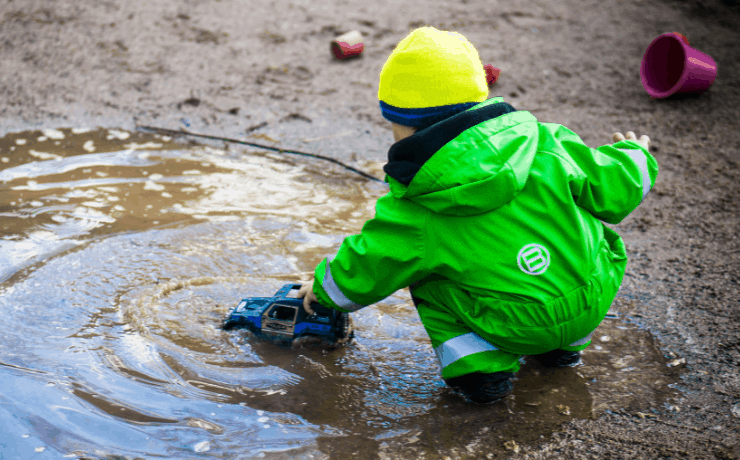 Puddle Play
Right after a rain, let your kids out to play in the puddles. You want to be prepared for this activity – by dressing them in old clothes and rain gear. Toddlers have fun splashing in the bathtub, so puddles are the next best thing. Plus it allows them to release some pent up energy they were storing while it was raining.
Bonus Tip: Bring along some toy cars and trucks for your toddler to drive through the puddles!
Sidewalk chalk
Creativity is limitless when you give your toddlers some chalk and let the sidewalk or driveway be the canvas. Let them freehand their drawings and ask them questions so they can learn communication skills. You can also use the chalk to build a hopscotch outline which helps your kids burn off some energy!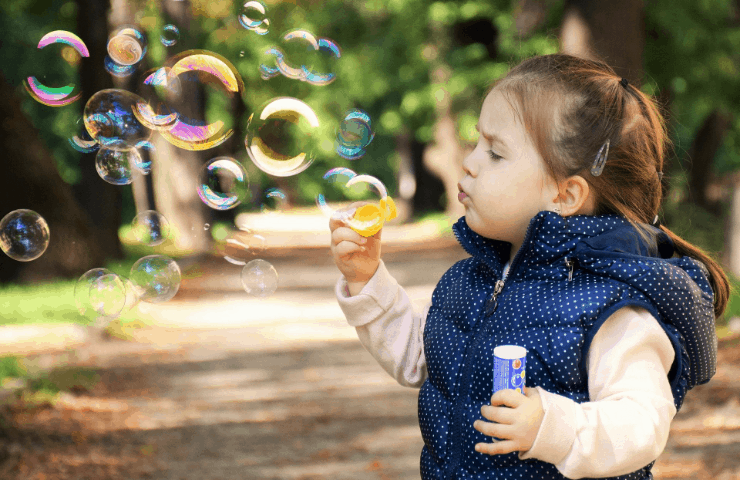 Blowing Bubbles
Bubbles are just an amazing thing for toddlers! They have lot chase them and try to pop them before they touch the grass. They can practice blowing bubbles as well. Provide a few bottles as well as larger pans for dipping different wands in the bubble solution for one of the best and low cost outdoor activities for your young children.
Nature Walks
This is one of the most fun outdoor activities with toddlers. Everything that is necessary for a nature walk can fit into a stroller. Having a stroller handy is useful for hauling supplies and worn-out toddlers. Two plastic containers, one package of wet wipes, two nets (butterfly or fish), and books on plants and bugs are all the supplies needed.
Find a public park, lake, or trail that can be accessed free of charge. Use the nets to catch bugs or frogs and gather a variety of leaves and flowers in the containers. Then, find a spot to spread out the findings, and use the books to identify what they are.
Color Hunt
This can be done on a nature walk, while playing in the park, or just in the backyard. Help your child strengthen their color recognition by having them identify different colors in their surroundings. You can also bring some paper and crayons along so they can draw things they find of each color.
Play in the Sand
Get your child's creativity flowing by letting them play in the sandbox. If they don't have one, and you don't have the space for one, a sand table on the deck or apartment balcony works just as well. Be sure to toss in lots of toy vehicles to drive in the sand, and a dump truck for hauling the sand around. A shovel and small cups are also fun for toddler to have during sand play.
Gardening with Young Children
Kids enjoy dirt, and this is a good opportunity to teach them to see how plants grow. Items needed for gardening include a shovel, container, potting soil (or dirt from the yard), plant seeds, and water. Planting containers can be anything that can hold dirt, from old toys to empty coffee cans or actual planters. Gardening is extra rewarding when the children begin to see their plants growing.
Hide and Seek
This traditional game is really fun for toddlers that love discovering where you or their friends are hiding. It also fosters counting skills and cooperation. Use a blindfold to help keep the children's eyes closed when they are "IT" and then have fun helping them find the other players.
Washing Ride-On Toys on a Rainy Day
This is a good activity for a warm rainy day. Throw a little bit of dish soap or baby soap into a bowl and toss in a few sponges. Then just sit back and relax while the kids scrub and splash and let the rain wash the mess away. If there is no rain, simply wash the soap off with a water hose. This activity is great to use after a day of finger painting.
The warm weather staples also never go out of style. Swimming pools, playgrounds, and sprinklers will stay favorites for years to come, so add finger painting, nature walks, gardening, and kiddie car washes to the list, and have an entire summer of fun and excitement.