Have you been thinking about going backpacking with kids in tow? Discover these helpful tips to make the journey easier for everyone!
Kids can begin backpacking at any age. Matter of fact, the earlier they get accustomed to connecting with the outdoors, the more they will appreciate nature as they grow up.
However, if you will be going backpacking with your kids for the first time, you need to be well prepared. It's all about enjoying the backpacking experience.
As a newbie backpacker, here are some tips you can use to have a more fulfilling adventure the next time you decide to head outdoors.
10 Tips for Backpacking with Kids
Disclosure: This post contains affiliate links. As an Amazon affiliate, we earn a commission, at no extra cost to you, if you click through and make a purchase
Involve the kids in the planning process
Your kids may not know as much as you do about backpacking or the outdoors but that does not mean they don't know how to have fun. Your idea of fun may be a bit different from theirs, and that is why you should consult them when planning your backpacking trip.
This will help you know which hiking trails to choose, where to see the best attractions and when to do so. When they spot something that interests them (say an insect, or an animal), take time to indulge them. The fun of backpacking with kids is in the journey, not the destination.
Keep the hike easy
It is advisable to start with a moderate hiking expedition the first time you go backpacking with your kids. Select a trail that is not too strenuous for them. The first time should be about enjoying the experience. It's all about having fun and being comfortable with the idea of backpacking.
If they do not like the first time they head outdoors hiking, chances are that they will not enjoy the subsequent hikes in the future. Create anticipation before you leave for the hike so that they can get excited about the whole adventure.
The backpacking destination should be closer to your home, especially during the first few walks. If an emergency occurs, you can access help faster.
Carry enough food and water
You need to keep your kids well fed and well hydrated throughout the hiking expedition. Hungry kids are cranky kids. To keep the kids happy, pack some of their favorite snacks. Energy bars and clean drinking water are essential for a good backpacking trip.
If possible, you can carry cooked food from home, and then find a nice place to have a picnic in the wilderness.
Take numerous breaks
You need to take as many breaks as possible while taking a hike with your kids. Let them enjoy the experience. Find something fun to do (such as playing a game) while every is resting to prevent boredom. Games like I spy and scavenger hunts are great games when backpacking with kids.
If you will be going into the forest, buy a pair of binoculars for them so that they can enjoy watching the birds and other wild animals. By being their guide on this tour, expect to be asked numerous questions about almost everything.
If you don't know the answer, take pictures with your phone so you can research the answers once you are back home.
Dress appropriately when backpacking with kids
The weather can either amplify or destroy your backpacking expedition. You need to understand the weather conditions of the locations you choose to go backpacking. Checking the weather forecast would be a good start.
If you are in a region where the weather changes sporadically, make sure to carry extra (and comfortable) pieces of clothing for your kids. We are talking about layering here. Carry rain clothes because you do not want your kid to catch a fever if it rains unexpectedly.
Carry spare clothing in the car for them to change after they come from the hike. Chances are they will be muddy, wet, sweaty, or very dusty after taking their adventure.
Carry the right kind of gear
To keep everyone comfortable while backpacking for the first time, always carry the appropriate gear. For instance, a good pair of hiking boots can make all the difference between having a fulfilling hiking adventure and an uncomfortable one.
Depending on the season, terrain or weather, you can incorporate other gear as you see fit. Gloves, headgear, and other protective wear can go a long way in keeping your kids safe as you take your hike. Have a comfortable backpack for them, especially if you will be taking long hikes. Just make sure they carry the weight that is appropriate to their age and physical ability.
If you will be camping during this trip, make sure you have all the necessary camping gear. A great way to do this is to have a checklist. Another way would be to do a dry run in your backyard.
This is advisable for first-time campers and backpackers who need to familiarize themselves with the gear they will use outdoors.
Safety when backpacking with kids
The safety of your kids should be a priority when backpacking. Always ensure you have emergency contacts that can be reached easily if something happens out there.
Carry bug repellents to protect yourself and your kids from annoying mosquito bites. Make sure you also carry a well-stocked first aid kit to protect against bruises, blisters, and minor damages.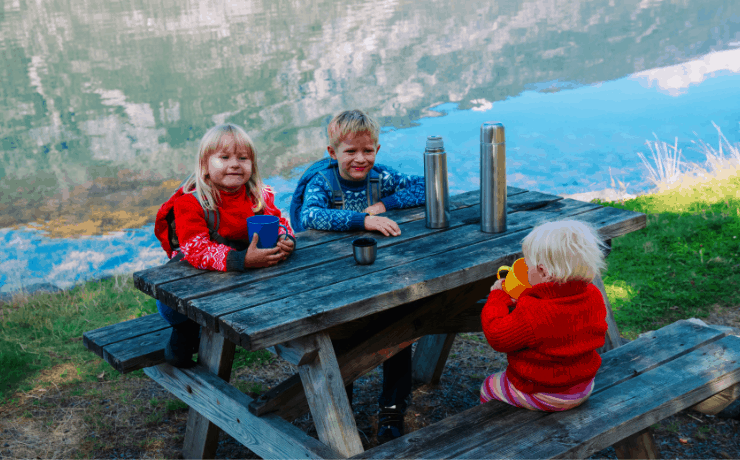 Embrace the leave-no-trace ideology
Nature is important and since our kids will be custodians of the environment in the future, they should embrace the "Leave No Trace" ideology whenever they go out backpacking, especially on public lands. They should not trash the environment or interfere with the wildlife they come across while backpacking.
Entertainment while backpacking with kids
It is natural for kids to get bored easily. After a long day hiking and exploring the wilderness, you get back to the campsite. You need to keep them entertained if they are not feeling too fatigued to sleep.
If you are camping in a campground with other families, you can join in the fun at the campfire where dancing, singing, and telling stories becomes an exciting venture.
If your kids prefer solitude, you may carry board games to engage with them as a family. When taking your hikes, allow the kids to come up with entertainment options.
Let your guard down
Let them get a little messy if need be. Let them stay out a bit longer past their bedtime. Remember, this is a chance to bond and make memories as a family. Allow them to play and have fun (within safety parameters, of course).