Looking for the best 16 inch balance bike for your kiddo? We've found a handful of options for you to choose from in the list below!
Balance bikes are a great way to introduce your child to riding on two wheels. The concepts of balance AND pedaling can be a bit much for some kids. This type of bicycle makes the learning process easier by taking away one action so they can focus on the other.
Add the pedals in when you think your kids are ready and they'll soon be cruising on their own!
We've found the best choices for a 16 inch balance bike for your child which you'll find in this helpful guide for all parents and family members. Looking at the features that each balance bike offers, we feel that you'll be able to find a bike to fit your child's needs.
This size of bicycle is typically recommended for ages 5-9 and a height of 30-48 inches tall. Of course, these are just standard recommendations and may vary based on your own child's height and size.
Disclosure: This post contains affiliate links. As an Amazon affiliate, we earn a commission, at no extra cost to you, if you click through and make a purchase
Finding a 16 Inch Balance Bike for Kids
Bixe Balance Bike for Big Kids
<
Bixe is a popular brand for bicycles for kids. This balance bike is lightweight and easy to assemble. The Bixe Balance Bike is a great sport training bicycle for kids ages 5 – 9 with a weight limit of approximately 150 pounds.
You can easily adjust the bike's seat. It includes a wide footrest that helps build confidence.
Pros
Available in 4 colors

Lightweight

Easy to adjust seat
Cons
No handbrakes
Cannot add pedals later on
JOYSTAR Balance Bike for Big Kids
<
The JOYSTAR Balance Bike is a top pick for a 16 inch balance bike for kids. The value of what you receive for the bicycle, as well as the safety features, are what really makes it a top choice.
This balance bike comes in 5 colors and has solid pneumatic tires which means that your kids can go on- and off-road. Oh, and the tires have wonderful grip and stability.
The lightweight frame is built with strong carbon steel. It comes with a handbrake for stopping. The seat is easy to adjust and super comfortable.
It is backed by a lifetime warranty from the company itself.
Pros
Affordable
Lightweight
Handbrake
Outstanding tires
Cons
Glide Go Glider Kids 16 Inch Balance Bike
This Glide Bikes Kid's Go Glider Balance Bike is a good middle of the road choice as far as price and features. It has the hand brakes that will get your kids used to stopping like they would on bigger bicycles. The foot rest can be removed if your child doesn't care for it. Glide Bikes offers a pedal kit to turn this bike into a regular one, but it must be purchased separately.
The handlebars and seat are both adjustable for a comfortable ride on the Glide balance bike. We were unable to find a weight limit on Amazon or the company's website, but it does say this cycle is designed for kids 5-10 years old.
Pros
Adjustable handlebars
Adjustable seat
Removable foot rest
Cons
Pedals available at additional cost
No weight limit info found
Royalbaby EZ Kids Bike – Innovation 2-in-1 Balance to Pedal
The Royalbaby EZ Kids Bike is a fantastic pick for your kids. This balance bike provides you with options (like 6 colors). It comes with pedals so your child can graduate up to a regular bike over time. It's essentially two bikes in one! The transformation takes just 60 seconds so you aren't fumbling with assembly or tools for a long time.
The light weight frame comes with a handbrake. This balance bike also has an exclusive jet seat that has a soft cushion and water bottle. Oh, and there's an electric bell, too!
Pros
2-in-1 balance bike (comes with pedals)
Handbrake
Includes fun accessories
Cons
More expensive than other brands
No kickstand
BIKEBOY Balance Bike 2 in 1
The BIKEBOY balance bike is another awesome 2 in 1 option (well, 3 in 1). It comes with both training wheels and pedals. And it only takes about 50 seconds to switch between modes!
This balance bike is lightweight and made from carbon steel. It also features anti-slip rubber tires, 360-degree steering, soft adjustable seat, and handbrake.
Pros
Affordable
Includes pedals and training wheels
Quick & easy to transform
Handbrake
Cons
No kickstand
Bit heavier than other models
Find a cool scooter for a 10 year old while you're here, too!
What to Consider when Buying a 16 Inch Balance Bike
There are a few things you may want to keep in mind when shopping for a balance bike for your child.
1. Extras
Some of the balance bikes for kids that are listed come with accessories, such as foot rests and pedals. These extras can extend the use of the bicycle and give you more value for your investment. Only you, however, can decide if your child needs these extras.
2. Safety
You want to consider the brake mechanisms when choosing the right balance bike. Most come with a hand or footbrake, while others may rely on the kids stopping the cycle with their feet.
Adjustable seats and handlebars are also handy safety features to ensure your child is riding the bike properly and comfortably.
3. Price
As always, you want to make sure the price you pay is worth it for the balance bike you're shopping for. The balance bikes on this list vary in prices. Remember that you often get what you pay for 😉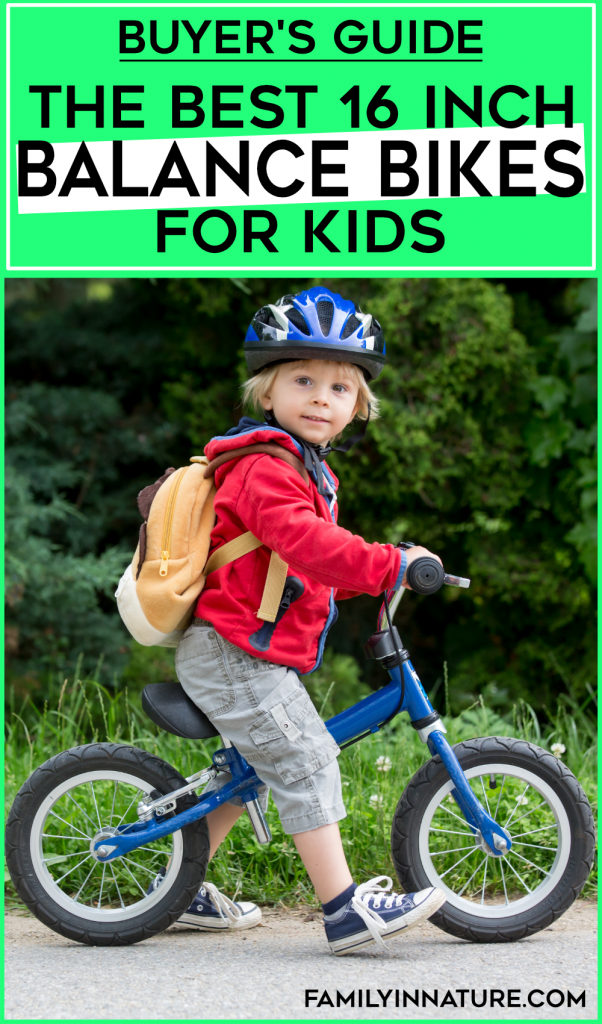 Now that you've had a chance to go through this list of the best 16 in balance bike, which one do you think would be best for your kids? Please share in the comments area at the bottom of this post 😊